SPCA Caring For Baby Hummingbirds

Every spring, the SPCA Wildlife Rescue and Rehabilitation Center rescues hundreds of baby birds. These tiny birds receive critical care while they are raised at the SPCA, and then released back into the wild to fly free.

Some of the first babies to arrive every year are hummingbirds. They come to us after being blown from trees during storms or when the trees and shrubs they are nesting in are trimmed. While our team will always try to reunite these little nestlings with their parents whenever possible, sometimes the baby is in too critical a condition or it is simply not safe to do so.

You can help by avoiding trimming trees and shrubs during baby bird season. If you see a nest or baby bird on the ground, please call us at 831-264-5427 for advice.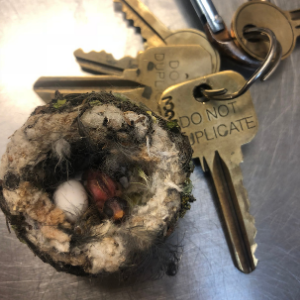 Hummingbird nests are tiny, about the size of a walnut or a golf ball. Because of this, they are almost impossible to see when trimming trees or shrubs. Hummingbird nestlings are even tinier, about the size of a jelly bean, and weigh about 1/3 the weight of a dime.

The SPCA Wildlife Center is currently caring for two hummingbird babies as well as dove and pigeon nestlings. Baby songbirds usually start arriving in need of rescue in April.

The SPCA Wildlife Center is available for emergency wildlife rescues 24 hours a day. To report injured, sick, or orphaned wildlife in Monterey County, please call 831-264-5427.

Every year, the SPCA Wildlife Center rescues over 2,500 injured or orphaned wild animals. This work only is made possible thanks to your compassionate donations.
>>Support Your SPCA

The SPCA Wildlife Rescue and Rehabilitation Center is the only full service wildlife rehabilitation center serving Monterey County. We operate under permits from the California Department of Fish and Wildlife and the United States Fish and Wildlife Service. Your support is extremely important to us, as we are not a chapter or any other agency and we do not have a parent organization. Everything we do is made possible by you. Thank you for making this care, and so much more, possible.