Register today for our 23rd Annual Wag n' Walk!
Sunday, May 6, 2018 at 9:00 a.m.
We hope you'll join us for this pawesome event! Held at Custom House Plaza - Monterey State Historic Park, this 2.4 mile walk continues down the recreation trail and back overlooking the beautiful Monterey Bay coastline and downtown Monterey.
Our walk raises awareness and fundraises for the SPCA for Monterey County—the heart of animal rescue since 1905, serving over 10,000 animals each year! An amazing accomplishment that could not be possible without the support of our friends, donors and fundraisers.
View photos from our 2017 Wag n' Walk.
This is a paw-somely good time you won't want to miss, so don't forget to register today. And if you're a returning walker, welcome back! We can't wait to see you and "capture" you at 2018 Wag n' Walk.
We challenge you to be our 2018 Top Dog fundraiser! Go ahead and just picture yourself right there... we believe you can do it.
2017 Wag n' Walk "Top Dog" Fundraiser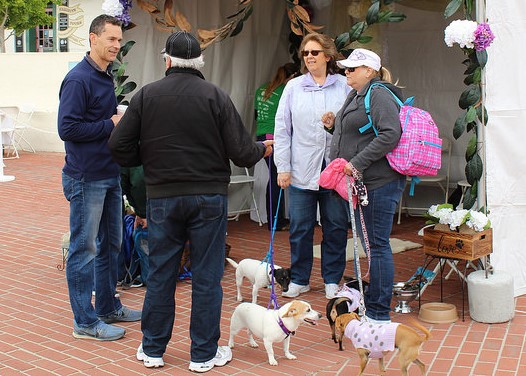 Debbie Stein, our "Top Dog" fundraiser from Wag n' Walk 2017, celebrates with her dog Roxy, fellow team members and Executive Director Scott Delucchi at their VIP tent.
Thank you, Debbie for being such an amazing fundraiser and raising $8,129 for the SPCA for Monterey County!

Find a Participant or Team:
Participate: